Faux silk curtains with a corded white
steel curtain track fitted to ceiling and
half-height sheer voile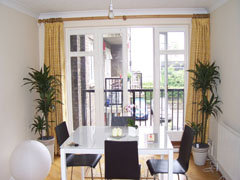 Osborne & Little Swirl interlined pencil pleat
on 50mm pole

Interlining - cold draughty single glazed windows, great in summer not so hot in winter. You need interlining, a fleecy sort of blanket fabric that goes between the lining and your chosen curtain fabric. Interlining is available in a number of thicknesses.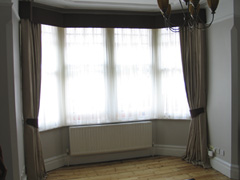 Simple contrast pelmet conceals a
pair of tracks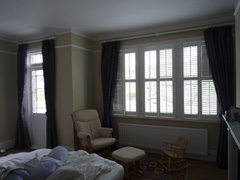 Interlined blackout curtains white wood pole
white wooden shutters for glare and privacy


Interlining - offers thermal and acoustic
insulation, but also adds fullness and
helps the curtains to hang well. For
really proper old fashioned curtains
we have heavy bump !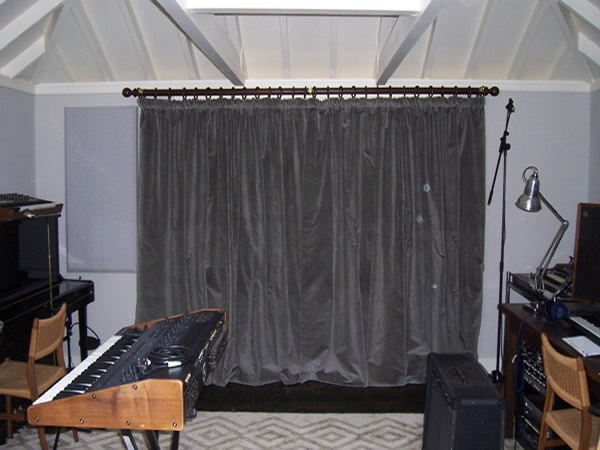 Acoustic curtains - velvet with heavy bump
interlining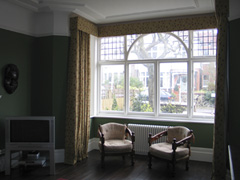 Simple pelmet to help frame window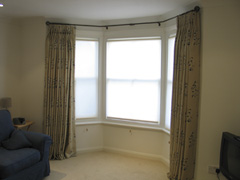 Sanderson print, interlined, pinch pleated,
hung from a bay window pole with roller
blinds for privacy in this lower ground floor
We are not interior designers, we will not tell you what you want. We are very experienced curtain makers and fitters and would be delighted to help you achieve the look you desire. Our shop manager knows our fabric books well and has trained in design and use of colour - she can discuss differences in the colour beige for hours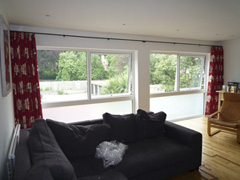 Romo fabric on 5.8m pole see bigger
picture for open and closed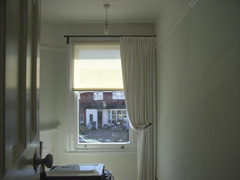 Single curtain to one side, the pole has a
recess bracket attached to the side wall